TAKE OFF // SERVICE // LAND: ANYWHERE – FAUN Trackway at Paris Airshow 2017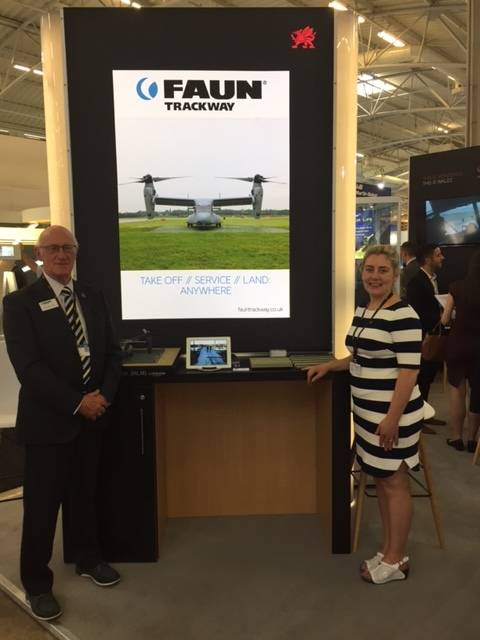 Team FAUN Trackway® have continued to travel across the globe to visit Defence exhibitions throughout 2017. Last month our Sales Support and Tender Co-Ordinator Shelley Williams joined Michael Jordan, Business Development Manager EMEA, to exhibit at Paris Airshow from 19th-22nd June.
At the show we were pleased to again demonstrate our Osprey model with PSA-FT Trackway® showcasing our aviation solutions to thousands of attendees. We also took along samples of our PSA, PSA-FT and M150 Trackway® to exemplify the surfacing used for our the Aircraft Landing Mat (ALM), Helicopter Landing Mat (HLM) and Unmanned Aerial Vehicle Landing Mat (UAVLM) solutions which can all be used for both civilian and military purpose, and proved particularly popular with several delegations.
Launched in 2011, the UAVLM was the first product of its kind to be developed specifically for use with unmanned systems. It allows users to construct temporary airfields that can support UAV operations where established infrastructure does not exist.
Both the HLM and ALM are expedient runways in kit form that create temporary landing areas.
The systems were developed for the UK Royal Engineers and can be used as temporarily as required – a complete contingency airstrip that can be laid by an experienced team in less than 24 hours – M150 panels, that prevent brownout, to PSA for heavy aircraft and PSA Flat Top for light carriers and UAVs.
We are now counting down to our flagship show, DSEI in London, from 12th-15th September, and would be delighted to meet with you on our stand, within the UK Pavilion, S4-140.
For more information on FAUN Trackway®'s attendance at any of these or future events please contact Danielle Thomas our Marketing Co-Ordinator on danielle.thomas@fauntrackway.co.uk or call 01248 725313.