Contract Win
Orbital Marine Power places O2 tidal turbine anchor fabrication contract with FAUN Trackway Limited
Orbital Marine Power Ltd (Orbital), the world's leading developers of floating tidal stream turbines, have selected FAUN Trackway® to manufacture the anchors for their new O2 tidal turbine at FAUN Trackway®'s facilities in Llangefni, North Wales.
As pace gathers around the manufacture of the O2 turbine FAUN Trackway® have been engaged to manufacture four steel anchor structures, along with bespoke mooring connectors, that will be installed in the Fall of Warness, Orkney where Orbital have an existing berth and grid connection with the European Marine Energy Centre (EMEC).
The O2 is an optimised version of Orbital's hugely successful SR2000 turbine and with an ability to generate in excess of 2MW the O2, like the SR2000 before it, will become the world's most powerful tidal turbine when it enters operation later in 2020 at EMEC.
Commenting on the contract award Orbital CEO, Andrew Scott, said: "This is a transformational project for Orbital, and for the tidal sector, and these anchors will have the important job of holding the O2 on station so it can generate gigawatt hours of clean, predictable power from the strong tides we have around Orkney – so we are delighted to be engaging the experience and precision of FAUN Trackway® for this critical supply."
Gareth Williams, Engineering Manager for FAUN Trackway®, said: "We're excited to get involved and provide value to this great project. The manufacture of the anchor structures and bespoke mooring connections will fully utilise our design for manufacture (DFM), engineering and production methodologies to provide a cost effective solution for Orbital. Components will be manufactured, tested, inspected and coated to stringent DNV standards to ensure the high integrity components stand the test of time".
David Jones, Director for Marine Energy Wales, said: "This is another example of how the marine energy sector is providing supply chain companies across the UK with diversification opportunities. It is really positive to see FAUN moving into this innovative low carbon sector successfully and for Welsh companies to be supporting world leading UK tidal developers."
Whilst these anchors are destined for Scottish waters Orbital are also berth holders at the Morlais tidal energy project venture off Anglesey in North Wales which is seeking to provide a route to larger arrays of tidal turbines. Speaking of the future opportunity Scott said: "This first O2 build is demonstrating the industrial opportunities that can be captured and grown by a UK supply chain if commercial projects like Morlais come to fruition, and we look forward to working with UK Government to help realise that."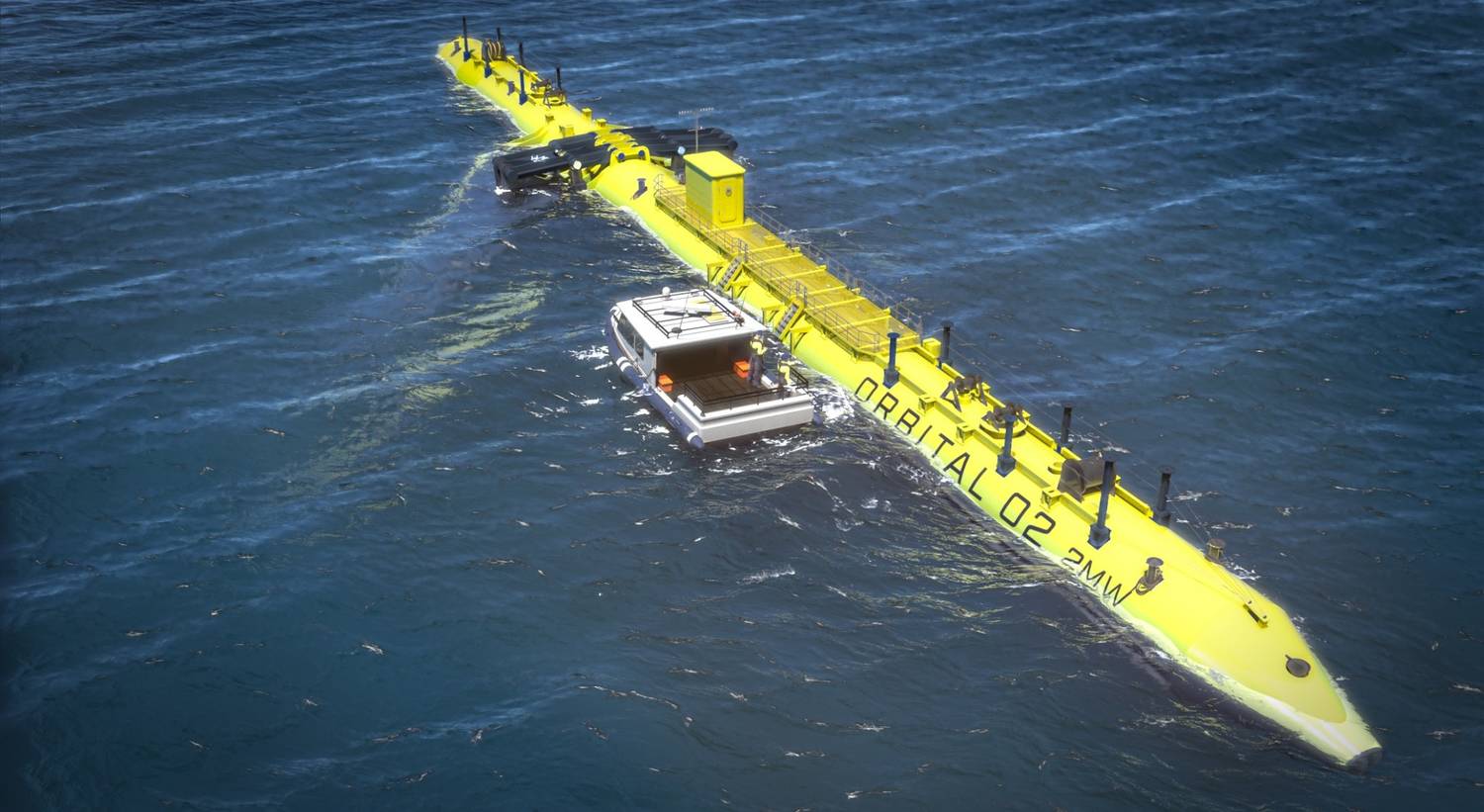 Media contacts at Orbital Marine Power:
James Murray, Business Development Manager: 01856 851641 / j.murray@orbitalmarine.com
Paul Taylor, Taylor Keogh Communications: 020 8392 8250 / paul@taylorkeogh.com
For Scottish media enquiries, David Budge: 0141 249 0396 / david.budge@budgepr.com
Media contacts at FAUN Trackway®
Rachel Roberts, Head of Marketing, 01248 725 311 / rachel.roberts@fauntrackway.co.uk
Notes to editor:
About Orbital Marine Power Ltd.
Orbital Marine Power Ltd is an innovative Scottish engineering company focused on the development of a tidal energy turbine technology capable of producing a step-change reduction in the cost of energy from tidal currents. The company's novel floating technology offers a low-cost solution for simplified and safe manufacture, installation, access and maintenance along with the ability to use low cost, small workboats for all offshore operations. The company currently employs 30 staff with offices in Orkney and Edinburgh.
The Orbital technology has been under continuous engineering development, including rigorous testing of scaled systems in both tank conditions and open ocean environments, since the company was founded in Orkney in 2002. Orbital were the first company in the world to successfully grid connect a floating tidal turbine in 2011 with their 250kW scale system which was operated at EMEC.
In 2016 the company launched the SR2000, the world's most powerful tidal stream turbine. The SR2000 produced in excess of 3GWh of electricity over its initial 12 month continuous test programme. At the time this represented more power from a single turbine than had been generated cumulatively by the wave and tidal sector in Scotland over the 12 years prior to the launch of the O2.
The Orbital O2 will comprise of a 73m long floating superstructure, supporting two 1 MW turbines at either side for a nameplate power output of 2MW, at a tidal current speed of 2.5 m/s. With rotor diameters of 20m, it will have a 600sq metre rotor area, the largest ever on a single tidal generating platform to date.
In October 2018 Orbital opened a £7m crowd funding debenture on the London-based Abundance Investment platform to support the build of the O2 turbine with the target being met inside 10 weeks.
The O2 project has received funding from the European Union's Horizon 2020 research and innovation programme under the FloTEC project (grant agreement No. 691916) and the European Regional Development Fund through the Interreg North West Europe Programme under the ITEG project.
This project has also received support under the framework of the OCEANERA-NET COFUND project, with funding provided by national / regional sources and co-funding by the European Union's Horizon2020 research and innovation programme.
Orbital Marine Power Limited (formerly called Scotrenewables Tidal Power Limited) is a privately held company, main shareholders are the McGrath Group headed by Scottish entrepreneur Matt McGrath and Scottish Enterprise via the Energy Investment Fund.
About FAUN Trackway.
FAUN Trackway Limited (FAUN Trackway®), is a division of the KIRCHHOFF Group. Originally Lairds (Anglesey) Ltd, the company boasts a unique heritage in bespoke manufacturing projects. Providing premium products and tailored solutions across an array of industries, FAUN Trackway® specialises in design engineering, bespoke fabrications, painting, and welding through their three sectors Trackway® Defence, Trackway® Access and Trackway® Engineering.
About Morlais Tidal Project.
The Morlais Tidal Energy Project is being developed with part funding by the European Regional Development Fund through the Welsh Government, to facilitate commercial deployments of a range of tidal energy technologies and has the potential to create one of the largest tidal stream energy sites in the world. Menter Môn was first awarded rights to develop the site from the Crown Estate in 2014. The Morlais project has secured a grid connection offer and following completion of environmental assessments, a consent application is due to be submitted in Autumn 2019.