Mighty 8x8 Mercedes-Benz Arocs joins the FAUN Trackway Limited family
A UK-based manufacturer of ground stabilisation solutions that enable vehicles to negotiate challenging terrain turned to Mercedes-Benz Trucks for the specially-built eight-wheeler that will assist in showcasing its world-leading technology to international audiences.
FAUN Trackway®operates from headquarters on Anglesey and took delivery of its muscular 8x8 Arocs from local Dealer eStar Truck & Van. The vehicle is fitted with hookloading equipment by Hiab UK and has a mechanised body capable of laying up to 50 metres of interlocking M150 Trackway® aluminium panels over undulating terrain in less than five minutes.
This innovative and environmentally friendly system is designed to ensure mobility for wheeled and tracked vehicles, and aircraft, when operating in adverse conditions such as marsh, snow and sand, and provides access in scenarios such as bridging ingress and egress, and over the shore movements.. The 4.6m wide M150 Trackway® is transported on a Spool, then rotated 90 degrees for deployment and recovery.
A popular choice with defence industry operators worldwide, their Trackway® solutions are also well suited to a host of commercial applications including forestry, mining, utilities, and oil and gas exploration. It has proved its worth, too, in emergency and disaster situations by ensuring rapid deliveries of vital aid.
The all-steel sprung Arocs 4148 chassis is rated at 41 tonnes GVW but plated for operation at 32 tonnes. Its 12.8-litre in-line six-cylinder engine produces 350 kW (476 hp) and is paired with a 12-speed Mercedes PowerShift 3 automated manual transmission.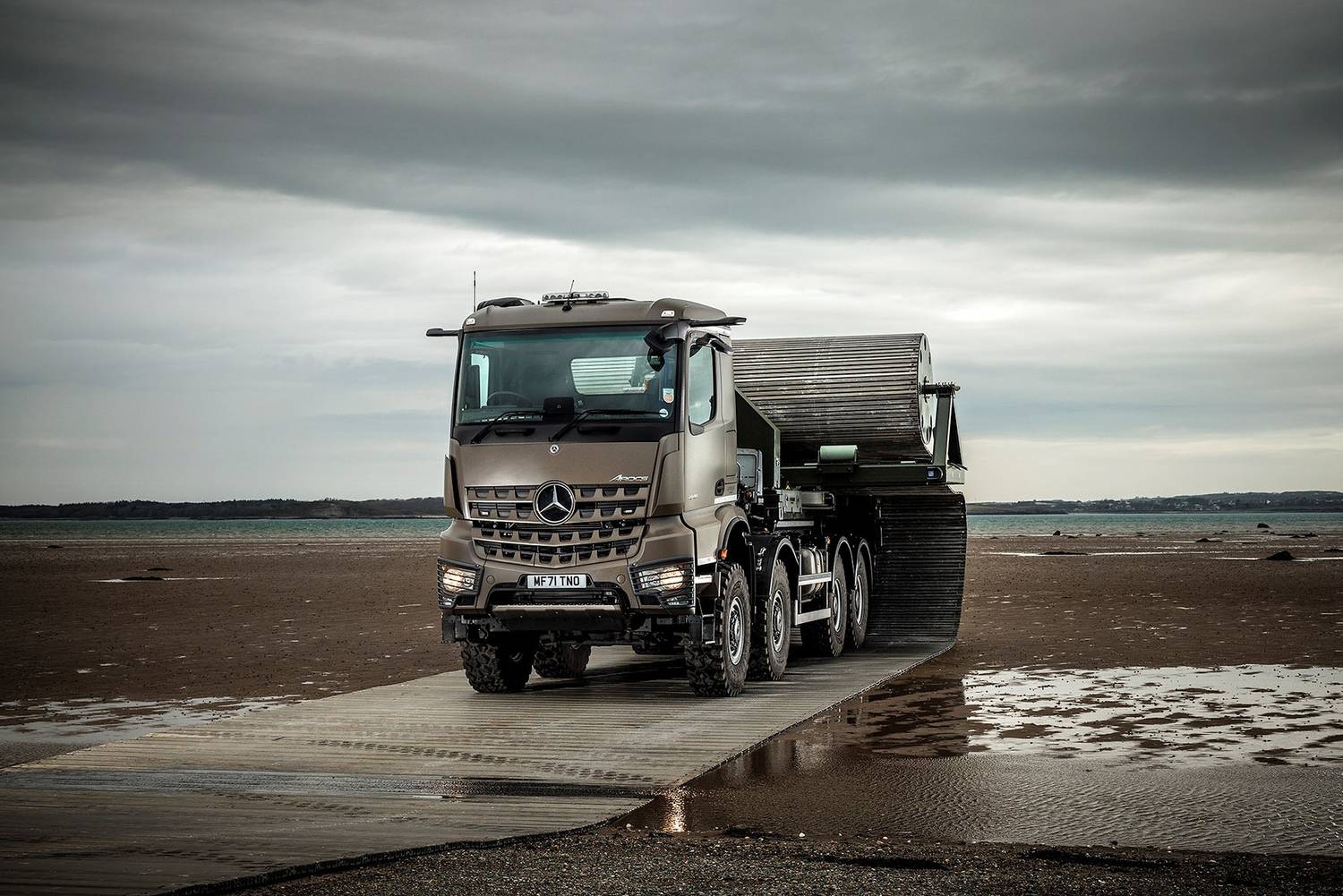 The vehicle underwent conversion from standard 8x4 configuration to all-wheel drive by Mercedes-Benz Trucks' Custom Tailored Trucks (CTT) division at Molsheim, in Alsace, France. To ensure the best possible traction, all four axles have differential locks and the wheels are shod with heavy-duty 14.00R20 tyres.
Factory-painted in Austrian Army Grey with colour-coded bumpers, the truck's ClassicSpace M-cab is equipped with a full complement of advanced driver aids. These include MirrorCam, the ground-breaking camera-based alternative to conventional mirrors, and the upgraded interactive version of the radical Multimedia Cockpit dashboard, which replaces switchgear with twin, tablet-style screens, one with 'touch' functionality.
FAUN Trackway® Product Support Manager Neil Wigley commented: "Rapidly laid and requiring minimal manpower, our high-quality, portable land solutions provide access for vehicles needing to tackle challenging terrains in multi-climate environments. We'll now be shipping our new Arocs to destinations all over the world, to demonstrate this technology to prospective customers at trade shows and in field trials."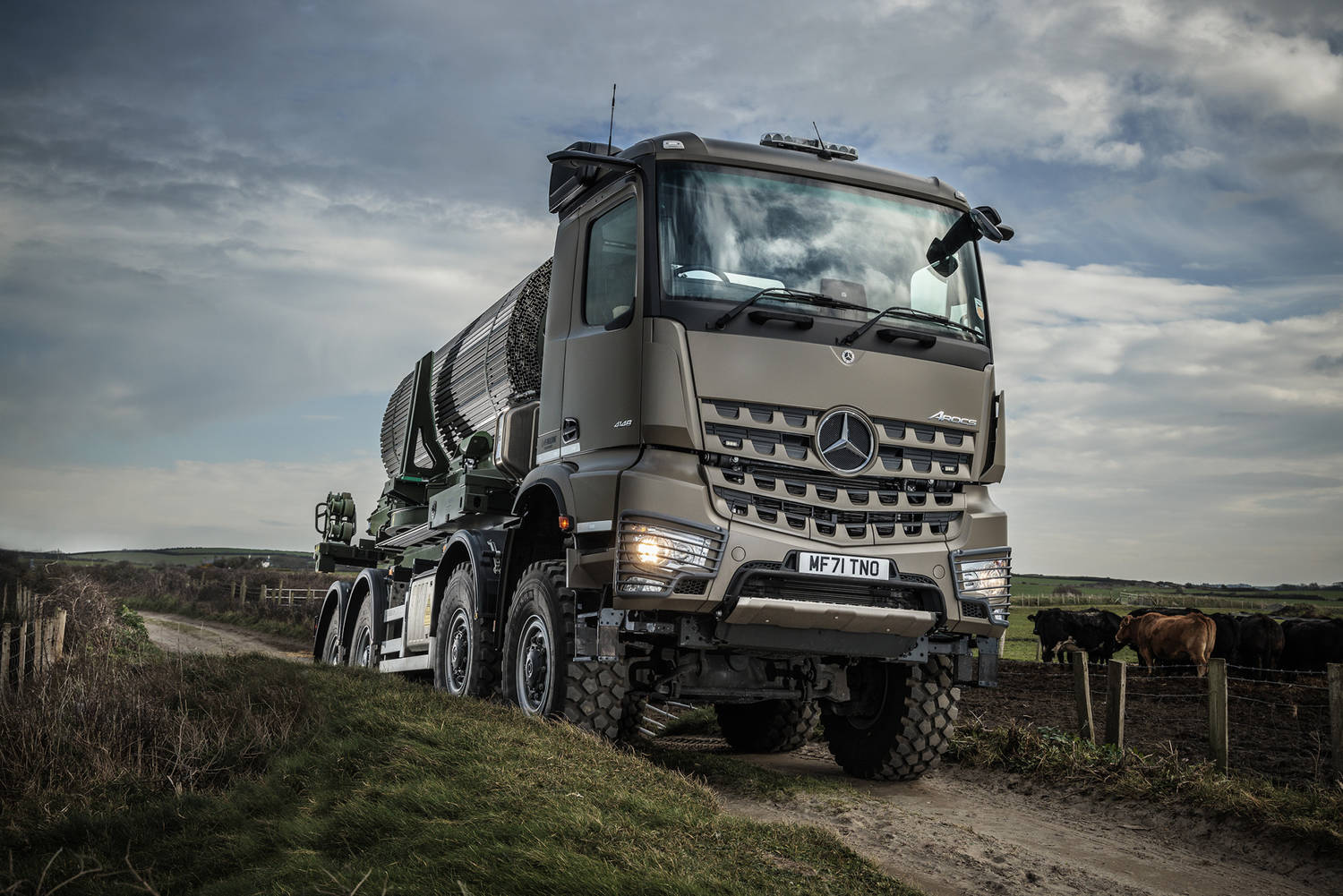 Explaining the rationale behind the company's decision to base its first, wholly-owned demonstrator on a Mercedes-Benz chassis, Mr Wigley continued: "We wanted a vehicle that would offer a turnkey solution. The three-pointed star is an internationally recognised symbol of quality and the Arocs has a great reputation for strength and reliability, so it was an obvious choice.
"Our new truck has fantastic approach and departure angles, and ground clearance across its axles. Factor in the 8x8 driveline as well, and it all adds up to a brilliant, high-mobility chassis."
Aftersales back-up was every bit as important for FAUN Trackway. "This vehicle could be deployed anywhere in the world so we also needed to know that we could call on the support of a truly global network," said Neil Wigley.
FAUN Trackway® previously relied on partnerships with various truckbuilders to demonstrate its products. "Essentially these were loan agreements, so the manufacturers always retained ownership of their chassis," he added. "By purchasing the Arocs, though, we've ensured that we have complete control over where and when it is sent."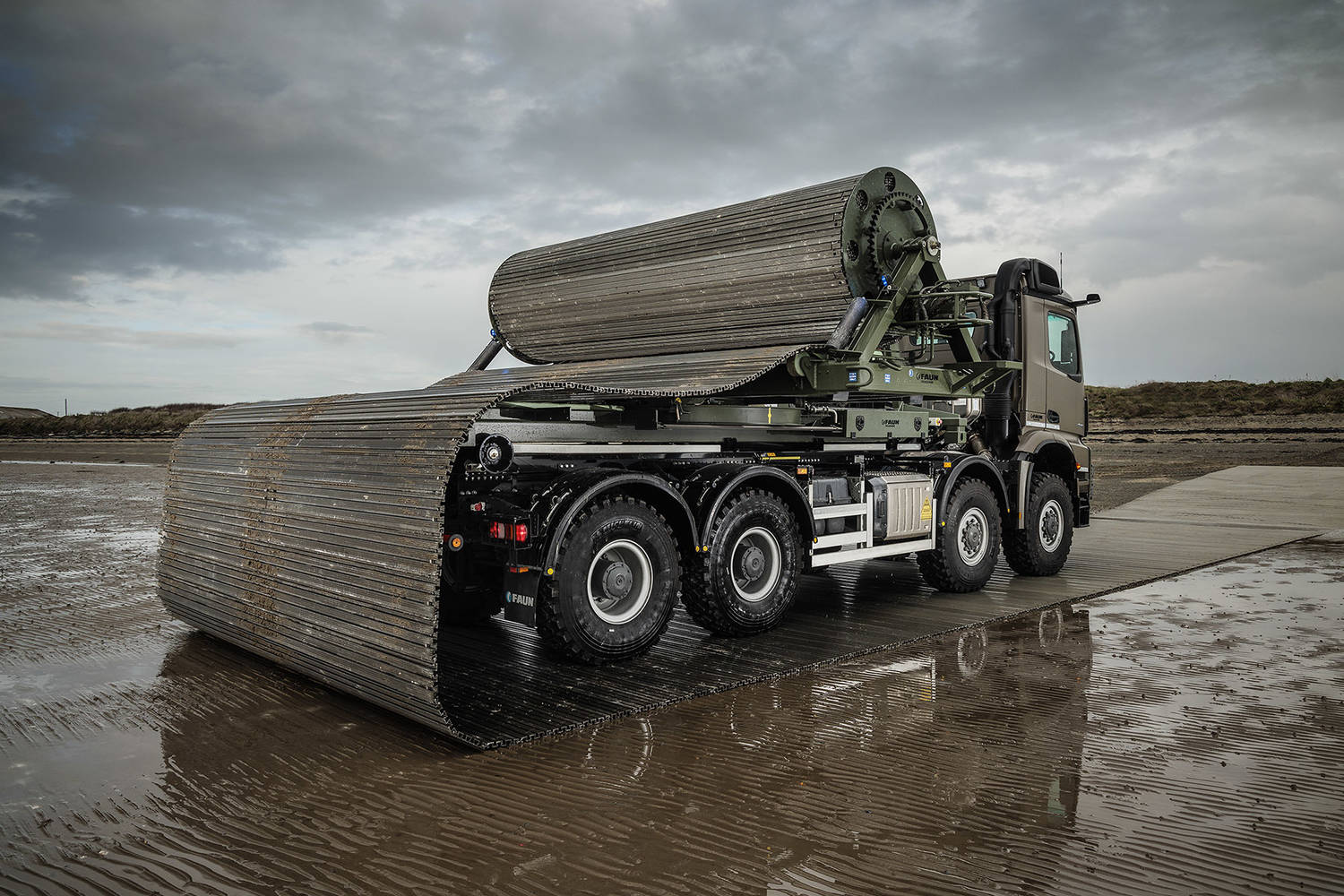 Prior to the arrival of their new demonstrator Mr Wigley and his colleagues already enjoyed an excellent relationship with Mercedes-Benz Trucks UK's Key Account Manager – Defence Michael Bateman, the two companies having worked together on projects involving Unimog and Zetros vehicles.
"Michael has been very supportive throughout what has been a complex and correspondingly lengthy build process for the Arocs, and the same has been true of the team at eStar Truck & Van," reported Mr Wigley. "While the Trackway® system is designed for use with other brands of vehicle as well, we do have some influence over the customer's choice and would envisage recommending a Mercedes-Benz in most instances."